dr len horowitz, dr leonard horowitz, sherri kane, 528 revolution
PROFESSIONAL – KNOWLEDGEABLE – COMMITTED – TRUSTED
Faith-Powered Service by the World's Best-Credentialed, Most-Prolific, Most-Articulate, and Most-Pioneering Natural Healthcare Authority
WELCOME to Dr. Horowitz's official website where you can gain unparalleled instruction and novel resources to help you and your patients/clients/community and loved-ones grow healthier, happier and positively prospered in all great ways, including financially.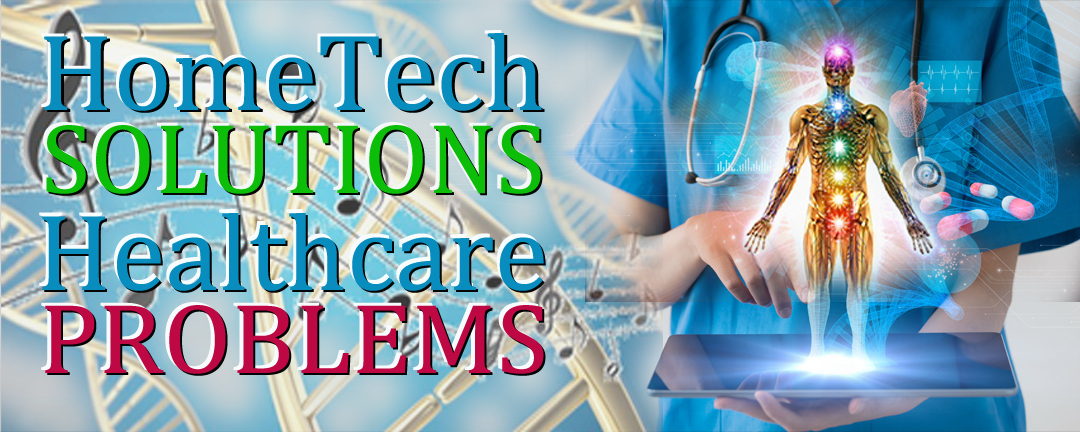 Humanitarian Visionary, Medical Editor and Professional Educator
"I help health-seekers and care-givers quickly gain improved health, happiness, and financial freedoms," Dr. Horowitz explains. To do this, he uses and shares his nearly half-century of knowledge and clinical expertise. "I help entrepreneurs, corporate chiefs, inventors, manufacturers, and citizens in need develop or acquire extraordinary self-help products and programs."
That's right, by 1975 Dr. Horowitz was already teaching anatomy at Tufts Univ. to medical and dental students, training dentists in acupuncture at Boston Univ. Medical Center, and much more. "I followed that dedication by earning two post-doctoral faculty posts teaching and researching behavioral science, media persuasion, social engineering, public health, pain and fear-reduction therapies, and stress management technologies at Harvard Univ. and Leslie College's Institute for the Arts and Human Development in Cambridge," he recalls.
"My dedication to 'education' derives from its root word, edu-care.That means to lovingly 'draw forth from within' your unique talents and gifts to fulfill your longings, passion, and destiny.  As a whole person in body, mind, emotions, and spirit that is connected to God, you are extraordinary! I help people discover how wonderful and powerful they are, and apply more of what makes people great and more successful."
Deserving a Nobel Prize for Relaying the Most Provocative and Important Information in the World Today!

Consumer Protector, Drug Industry Whistleblower, Health Products Entrepreneur and
"One of the Few Polymaths I know."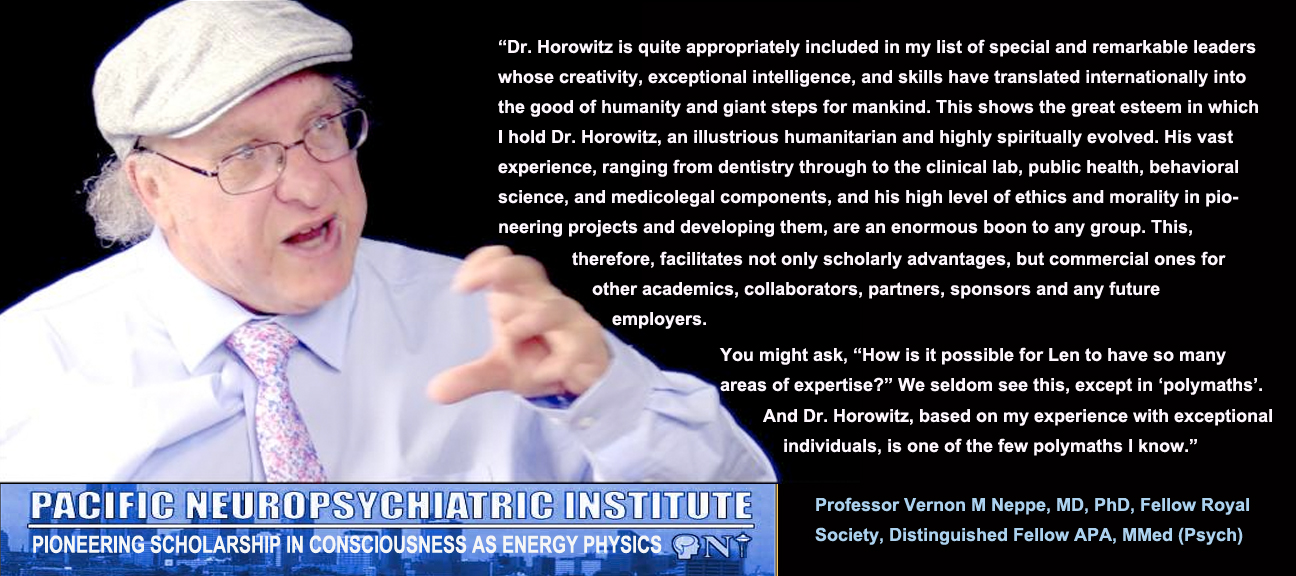 Dr. Horowitz Works "Selflessly" to Secure Your Right to Access Life-Saving Intelligence for Choosing Better Therapies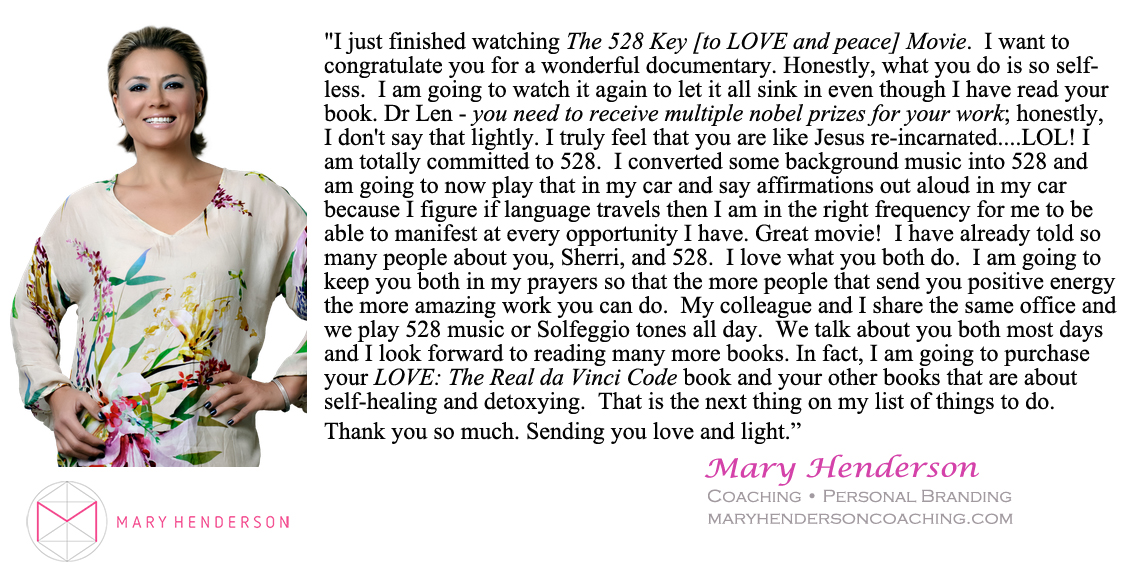 A Front-Line Warrior Defending Health Freedoms, Dr. Horowitz has "Educated and Positively Impacted Tens of Millions"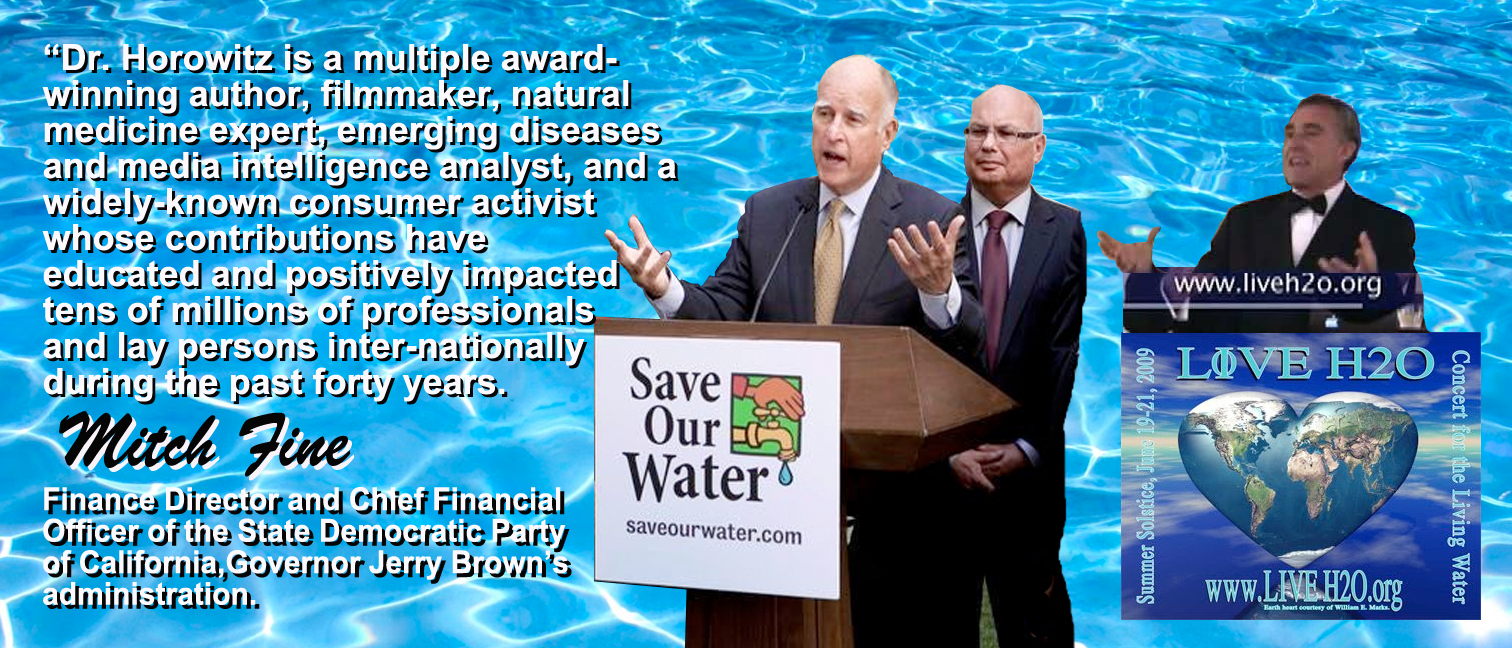 "Dr. Horowitz's Works are Really Important for Those . . . Studying the Essence of Life."

"Today, my holistic educational programs feature the art and science of inspiring total health and well-being through 'energy medicine,'" Dr. Horowitz continues. "I demystify spirituality, placebo effect, nocebo effect, and even miraculous manifestations using solid science, especially physics and mathematics. I train people on the fastest ways to recover optimal health. My works have advanced the fields of music therapy, consumer safety, and hastened recoveries in vaccinology. My books and films have inspired many Hollywood producers, recording artists, and famous doctors and scientists. Researchers, political leaders, and entertainers worldwide integrate my teachings, attributable most certainly to our Divine Creator."
The doctor's products, services, and students uniquely integrate the physical and metaphysical healing arts and sciences. He draws on the social and behavioral sciences, all impacting health, happiness, and overall wellness. His videos herald "Frequency Rehab." Prosperity in "all great ways" is his prayer for everyone with "ears to hear and eyes to see."
"My innovations shatter many myths in medicine and pseudo-science," Dr. Horowitz adds, addressing skeptics and his detractors. "For these reasons, I easily and justifiably trounce 'skeptics' and ignorant arrogant naysayers, atheists, and pagans. I blow my competition and critics away with solid science, real world facts in evidence, and common sense. I don't see competition as bad, but cooperation as preferable. Few perceived 'competitors' can compete against my extensive academic training, international following, massive numbers of publications in print, audios and award-winning films. Most importantly, my adversaries can't diminish or control the thankful health professionals and consumers who have benefited most from my words and works."
More About Dr. Horowitz's Featured Discoveries
Ever hear of the importance of body "alkalinity" in healing and prevention? Dr. Horowitz's colleague, James Karnstedt, and the doctor pioneered this field.
Ever hear of "structured" or "clustered" water repairing and rejuvenating DNA? This is based on "electro-genetics" and "biophysics." Dr. Masaru Emoto delivered evidence of "messages in water" microscopically apparent. Dr. Emoto was a dear friend to Dr. Horowitz, and Horowitz was Emotos leading science advocate when Dr. Emoto was being smeared by the 'Deep State's' army of online trolls and devil-doers. "I opened for Dr. Emoto in 1998," Dr. Horowitz recalls. "On Dr. Emoto's first night in the U.S. with his first book in Japanese that he signed for me. Together, we subsequently inspired masses of people internationally with our controversial theories and metaphysical philosophies. We advanced controversial new views in healthcare, water research, and loving developments in frequency therapies that have since snowballed in popularity and acceptance." 
Dr. Horowitz was 'way ahead of the curve' heralding vaccination risks, acknowledged today by even vaccination advocates. "I am one of only three American doctors who first published irrefutable intelligence urging a moratorium on the practice of vaccinations until the safety could be assured."
Ever hear of the antibiotic alternative, OxySilver? "I advanced NASA science to manufacture OxySilver as the world's first 'supercharged' vaccine and antibiotic competitor. I branded it, brought it to market and made sure it resonates with the 528nm/Hz frequency of light and sound (respectively) to be optimally effective."
Ever hear of "Liquid Dentist," the most wonderful oral health and general immunity booster? Dr. Horowitz conceived of it, researched it, and then co-formulated it. Then he brought it to market as well. It has since become the best selling product on HealthyWorldStore.com and CureShoppe.com.

Most musicians and producers in the music industry have heard about "alternative tunings" due to Dr. Horowitz's pioneering books, articles, interviews, videos, and CDs. "I pioneered the field of Solfeggio frequency applications in health science, music video therapies, and published more extensively than anyone globally on the unique, powerful, exploding genre of music made in 528 frequency sound and light. I also prompted the 432Hz music movement. I introduced these now famous frequencies used in clinical practice, the performing arts and sciences. My dearly departed partner, Sherri Kane, and I launched 528Records.com and 528Radio.com that transposes music into the 528 "LOVE frequency" and broadcasts it 24/7/365 for protection and hastened recoveries."
"I specialize in working with highly motivated professionals, thought-leaders, health coaches, group service providers, community organizers, activities directors, and committed educators with high integrity," Dr. Horowitz summarizes. "My students and clients trust me most honorably for what I've done for them and the humanitarian contributions I have made globally by the grace of God."
People are astonished by the repeated assaults Dr. Horowitz has had to overcome to contribute so much to humanity. He optimistically says, "I teach how to overcome severe adversity in life and business."
"I model fulfilling your desire for exceptional success and honorable achievement," Dr. Horowitz concludes. "My students and clients deserve the success my counsel encourages. My supporters, fans, and disciples following my advice and lesson plans reap awesome rewards. Their road to 'prosperity in all ways' is often bumpy. But the wisdom and skills to turn lemons into lemonade is what I leverage to overcome whatever stands in your way to succeeding in life and fulfilling your Divine destiny."
Dr. Horowitz's publications and online training programs make emerging health science more easily-understood. He shares powerful protocols, and great lessons. He does private consulting when requested, provides intensive training events, and gives keynote speeches at health and wellness conferences. He cordially invites you to take one of his online courses, and benefit from the many products he developed or has endorsed on HealthyWorldStore.com and CureShoppe.com.
DR. HOROWITZ'S 2016 FILM WON FIVE INTERNATIONAL AWARDS
INCLUDING "BEST FILM – 2016"

IN LONDON AND GENEVA
TO GRASP THE MAJESTY OF 528 FREQUENCY, WATCH "THE 528 KEY MOVIE"
Recent Projects
More News
The Books
View all books